Dynamically structured.

Leveraging process expertise to the max.
There is no single, steadfast route to sustainable project delivery. Our recipe for success: Process control expertise blended with true technical professionalism.
With FLOW we take your projects through to the desired goal, localize your products in new markets, adapt components to new production facilities and processes, and help set up production lines. Our FLOW field of competence offers a pool of expertise for target-led project management backed up by years of product experience. With FLOW we steer your development projects efficiently to their desired outcome.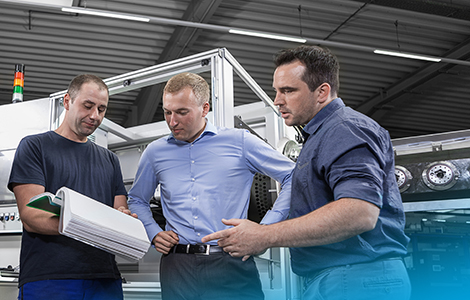 Integrating experience.

Technical expertise and process competence combined.
Our extensive process knowledge serves as a seed bed for increasingly close cooperation with you, our clients. Key success factors include our experience in project management augmented by our proven capabilities in case assessment, technical problem-solving and accurate decision-making, all capabilities enshrined in our Consulting and Project Management product groups.
With access to the development resources of the entire IAMT Group, assured availability of the right equipment and our many years of experience in project and process management, we assume clearly defined results-based responsibility in respect of each individual process milestone through to standard operating procedure approval.

Harnessing friction.

Meeting schedule, cost and quality targets without the trade-off.
In our FLOW field of competence, we offer reliable and systematic know-how in the areas of project management, quality management, process management and logistics. With our innate understanding of both the upstream and downstream process stages, we are in a position to efficiently advance the entire process flow in terms of development, production and organisation. Troubleshooting with professional and qualified task force support and our commitment to extensive international networking make the IAMT Group your ideal provider of holistic development consulting and management services.