Whole-system development of construction and mining machinery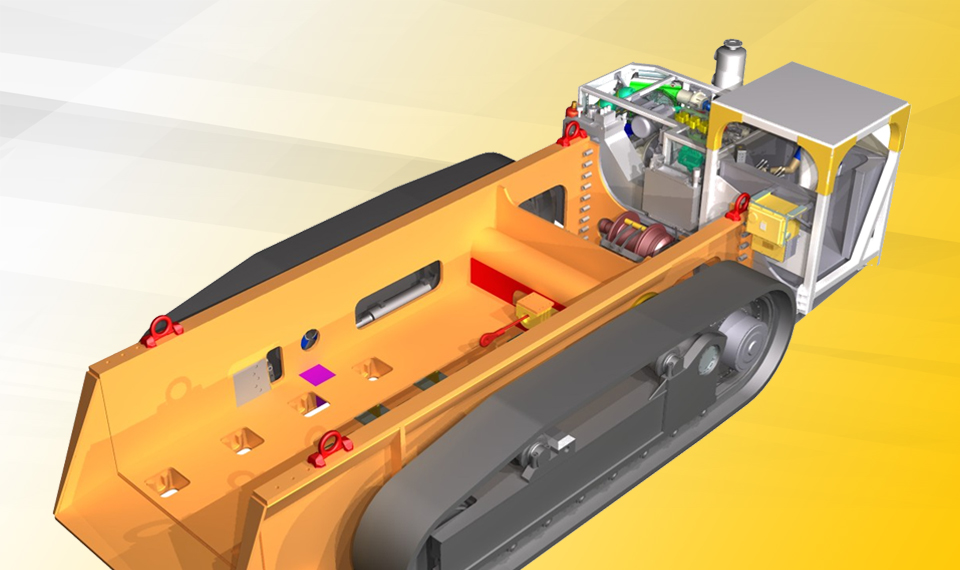 Responsibility for the development process
IBAF assumes responsibility for development work packages on behalf of machine and component manufacturers and supports OEMs with system integration and optimization. We adopt a holistic approach extending from concept to production drawing, and from specification-compliant design to component testing in the laboratory or metrological analysis in the field.
Concepts and integrated systems
Engineering, design and subsystem configuration
Operating load metrology and load spectrum analysis
Whole-system simulation from process to mechanics, hydraulics, control technology and the human-machine interface
Virtual prototypes
Machine and cabin structures
Tailored development of load-bearing structures
Strength analysis and structural optimisation; lightweight concepts
Safety-compliant design (ROPS, FOPS)
Acoustic and vibrational optimisation
Work equipment and attachments
Development-related kinematic studies and dynamic simulation
Tailored engineering and design of structures and interfaces
Development and optimisation of cutting tools and quick-change tool holder systems
Chassis
Development of wheeled, railbound and crawler chassis and their components
Engineering and design in accordance with required strength and wear characteristics
Dynamic drive simulation, virtual testing for power train tuning
Drive engineering
Development and optimisation of mechanical and hydraulic drive systems
Integrated multi-domain system simulation
Analysis and enhancement of energy efficiency
System integration
Control technology
Concept development and validation
Software development, programming
HIL / SIL tests
Process engineering
Simulation and optimization of operational processes (DEM, CFD)
Process load assessment, functional optimisation, performance enhancement
Energy efficiency, wear reduction, emissions reduction
Benefit from our Group-wide know-how network

The fields of competence of the IAMT Group
MOVE
Product expertise in chassis engineering. Materials handling equipment. Construction machinery. Systems development.
SAFE
Product safety testing. Drive testing. Test rig and bench construction.
FLOW
Process competence in development. Planning. Implementation.
NEXT
Product innovation through simulation. System solutions.